Athletics-fitness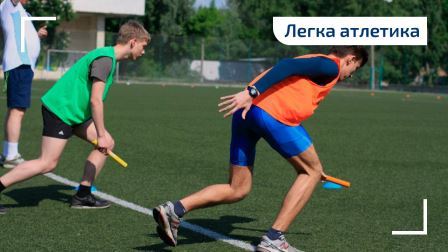 Cycle sports
Location: classes are held at the stadium (building 24), in the cold season in the sports hall (back yard of the sports complex).
Teachers:
Gavrilova Nadiya Mykhailivna – senior teacher of the TOS department, responsible for the educational department;
Nadiya Mykhailivna Prus - senior teacher of the TOS department;
Svitlana Mykhailyna Uskova is a senior teacher of the TOS department, master of sports.
About discipline:
The pair begins with a standard roll call and warm-up. The first part of the classes takes place, as a rule, in the open air - at the stadium, the second part - fitness, in the sports hall. In the cold season, classes are held only in the sports hall. The teachers are loyal and very experienced, professionals in their field. All fitness equipment (mats, balls, dumbbells, jump ropes) are provided on site. Fitness classes and athletics have great educational value. They contribute to the formation of character, habits to a healthy regime. Physical exercises have a positive effect on the health and physical condition of today's youth.
At athletics - fitness classes, you:
    improve motor activity;
    develop movement speed and endurance;
    improve own strength, flexibility and coordination;
    athletics and fitness will contribute to the development of the cardiovascular, nervous, and respiratory systems, improve metabolism, and strengthen the musculoskeletal system.